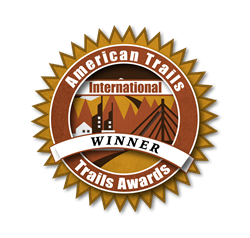 Portland, OR (PRWEB) May 22, 2015
American Trails presents the National and International Trails Awards Program to recognize the tremendous contributions of volunteers, professionals, and other leaders who are working for the betterment of trails both nationally and internationally and in both rural and urban settings. These awards are presented every two years at the International Trails Symposium.
View complete descriptions and photos of each 2015 awards recipient by visiting http://www.AmericanTrails.org/awards/2015.
Trail Advocacy Awards

This award is given in recognition of successful efforts to influence public policy relating to trail planning, trail protection, trail development, or maintenance.
Silas Chamberlin, Executive Director, Schuylkill River National Heritage Area

Terri Collins, Alabama State Representative

Evergreen Mountain Bike Alliance, Washington State mountain bike advocacy group

Roy Garrett, Founder, Discover Indiana Riding Trails

Scott Schilling, Founder and President of Transportation Recreation Alternatives in Louisiana

Bruce Stuart, President of the Cotton Valley Rail Trail Club

Archie Thompson, Volunteer Coordinator, Berkeley County Blueways
Trail Worker Awards

This award recognizes an individual that has made outstanding contributions and provided consistent support for trail planning, development, or maintenance. It is intended to recognize the efforts of a private or public sector individual working for enhanced trail recreation on either the local, state, or national level.
Tate Connor, New York State Department of Environmental Conservation

Emile and Rita Croteau, founding members of the Millsfield Pond ATV Club

Andrew Fulks, Board President and Founder of Tuleyome, Putah Creek Riparian Reserve Manager

Sam Jarrett, Recreation Manager for the Snoqualmie Unit of South Puget Sound

Michael Kuepper, Founder and President of Friends of the Nickel Plate

Ken Neubecker, Associate Director, American Rivers

Raymond Pellerin, Founder, Tour du Teche Kayak and Canoe Race

Jeff Potter, Trails Coordinator, Muscle Powered

Shawn Redfield, Trail Director, Arizona Trail Association

Mike Rooks, Park Foreman, Little Mulberry Park
Outstanding Media Award: Governors 100 Missouri Miles Challenge

This award recognizes significant and sustained efforts to provide positive public exposure and education in the field of trail use, planning, design, implementation, or policies.
In celebration of Missouri being named Best Trails State by American Trails in 2013, Governor Jay Nixon and First Lady Georganne Nixon launched the 100 Missouri Miles Challenge in June 2013. The new initiative was designed to encourage Missourians to complete 100 miles of physical activity during the year, while promoting the outstanding trails in the Show-Me State. The campaign featured a website which allowed participants to track their miles and post photos of their outdoor experiences. As of July 31, 2014, 20,862 participants completed over 2 million miles with the Governors 100 Missouri Miles Challenge.
Friends of Trails Award: Michigan Trail Riders Association

This new award recognizes a friends volunteer group which has shown outstanding support of their local trail(s).
The first Friends of Trails Award is presented to the Michigan Trail Riders Association.
The Michigan Trail Riders Association maintains 500 miles of trail and 18 trail camps in partnership with the US Forest Service and Michigan Department of Natural Resources. Since its creation in 1963, the Michigan Trail Riders Association has continually worked toward developing, maintaining, and expanding a system of camps and trails stretching across Michigan. MTRA has organized over 200 trail rides in addition to hikes.
Community Service Award: Northwest Youth Corps

This award honors a trail organization that performs exceptional community service relating to but beyond trail work.
Since 1984, Northwest Youth Corps has been building trails to the future for more than 18,000 diverse young people through opportunities to improve the natural environment. Engaged in more than just trail work, youth and young adults become citizen stewards through NYCs mix of academic, workplace, and life skill education. During the award period, Northwest Youth Corps crews supported recreational infrastructure through almost 200,000 project hours, including the construction of 30 miles of new trail and maintenance of 669 miles of existing trail.
State-of-the-Art Technology Award: Single Track, LLC

This award recognizes a trail-related product, process, or service that has significantly met a need, addressed an issue, or increased efficiency in trail design, development, or maintenance.
Trail advocate Barrett Brown designed the Single Track ST 240 to allow trail builders and land managers to keep up with their workload and complete upgrades to trails while preserving the natural setting and providing trail users with the outdoors experience they seek. The machines 6-way dozer blade, 32-horsepower engine, and 24-inch minimum width get tough jobs done in tight spacesand with full remote control capability. This machine is being described as a game changer for trail builders and land managers.
Trails Public Service Award: Karl Knapp

The nominee must work for an agency at the federal, state, or local level and must have demonstrated significant and consistent support of trail planning, design, or implementation through strong leadership and/or legislative efforts. The nominee may be an elected official, a paid employee, or a volunteer.
Karl Knapps 35-year career with California State Parks has been marked by commitment, leadership, and vision. With a focus on creating solutions to trail management challenges, his trail design, woodcraft, and technical skills have enhanced countless trails across the state. Additionally, Karl has fostered a partnership between California State Parks and the California Conservation Corps to provide sustainable trails training for the next generation. His hard work and tireless advocacy have left a lasting impact in California State Parks.
Trails and the Arts Award: The City of Redmond, WA

This award recognizes outstanding public art projects, interpretive signs, or other creative structures associated with trail-related improvements.
The City of Redmond, Washington ensures that its community is inspired and connected by arts and culture by allowing artists and landscape architects to influence every park and public place. In 2013, the City began the development of the Redmond Central Connector, a 3.9-mile rails-to-trails pilot project for integrated art and landscape design. Landscape architects and artists worked together to develop the trails master plan with an art and design element. The City is activating the Connector for performances and cultural events.
Trails for Health Award: Get Your Tail on the Trail, presented by The Delaware & Lehigh National Heritage Corridor with St. Lukes University Health Network

This award recognizes a communitys commitment to improving access to trails and promoting their use and importance for increasing physical activity.
Get Your Tail on the Trail offered monthly events for people to be active through guided bike rides, walks, and runs on the D&L Trail. The events were dynamically promoted through both organizations via social media and television, as well as the website and trail tracker. By linking St. Lukes healthy lifestyle expertise with D&Ls recreational and heritage leadership, the program was a success. In 2014, over 4,000 registrants tracked 340,287 miles.
Outsta