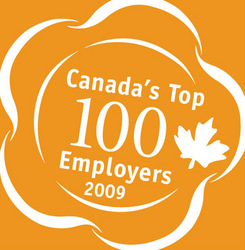 Toronto, ON (PRWEB) April 15, 2008
Applications are now available for the 2009 Canada's Top 100 Employers project. Now in its 9th year, the annual competition recognizes the companies and organizations across Canada that lead their industries in providing exceptional places to work.
The competition is open to all employers — large or small, public-sector or private — that offer innovative programs to attract and keep talented employees. Employers are compared to others in their industry and the winners are announced in a special issue of Maclean's magazine each October. The competition is managed by Mediacorp Canada Inc., which publishes detailed reasons for each employer's selection on its popular job search engine Eluta.ca.
To determine the winners, Mediacorp editors evaluate each applicant on eight key criteria: (1) Physical Workplace; (2) Work Atmosphere & Social; (3) Health, Financial & Family Benefits; (4) Vacation & Time Off; (5) Employee Communications; (6) Employee Engagement; (7) Training & Skills Development; and (8) Community Involvement.
Employers complete a single application to be considered for the Canada's Top 100 Employers competition, as well as 18 other regional and special-interest "top employer" competitions Mediacorp manages with a variety of partners. Winners of these projects are announced in special editorial supplements published by 22 newspapers and magazines across Canada, beginning in October.
Completed applications are due June 30, 2008. To obtain a copy of the 2009 application, please visit http://www.canadastop100.com/apply.
For further information:

Richard Yerema, Managing Editor,

Canada's Top 100 Employers

Mediacorp Canada Inc.

416-964-6069
###