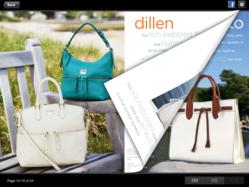 San Francisco, CA (PRWEB) September 05, 2012
Catalogue by TheFind, the worlds most recognized and popular tablet shopping app for print catalogs, has now become a page-turning, cross-platform publishing sensation thanks to some significant upgrades. Available for Apples iPad, Amazons Kindle Fire!, Android large format smartphones and tablets, as well as the web with HTML5, and the imminent Microsoft Surface, Catalogue includes nearly 200 titles from about 100 different retailers and brands, including Dooney & Bourke, Nordstrom, Crate & Barrel, Lands End and many others. With these updates, users of Catalogue can literally flip pages in their favorite catalogs and look books exactly as they would in a paper version, with product images appearing on both sides of the page. Other upgrades include an improved navigation layout and product hotspots that appear on the page and make it easier to click and buy your favorite products.
Tablets are ideally suited to replicate and enhance the traditional catalog shopping experience that so many of us love in print catalogs, said Liz Kane, director of advertising and P.R. at Dooney & Bourke, Inc. We're very excited to be working with The Find on Catalogue because they've helped us bring our products to life by enriching our photography with dynamic interactive elements. They have also made it exceptionally easy for us to bring our merchandise to all of the most popular tablet platforms through a single integration point. The whole process has been seamless for us.
Since its launch more than a year ago, Catalogue has been downloaded more than 1 million times and boasts some of the best engagement metrics in the online shopping business. According to TheFind, Catalogue shoppers spend more than four times as long inside the app as they do on the companys primary website, TheFind.com. In addition, 70% of shoppers who open a catalog peruse it end-to-end, indicating a high level of interest from those shoppers for their favorite brands. Whats more, unlike a print catalog delivered via snail mail, shoppers can share catalogs and products with their friends with simple social actions such as Liking. TheFind can tell retailers how often their catalogs were opened, how many unique sessions were initiated, what pages and products appeared most popular and demographically, which users were most engaged (or not).
TheFind also reported that its page turning web-based, social shopping experience for merchant catalogs, Glimpse.com, is currently being featured by Microsoft as an Amazing Site for Internet Explorer on their Beauty of the Web site (http://www.beautyoftheweb.com/amazing).
Catalogue by TheFind is available for free and immediate download from the iTunes store, Amazon Kindle Store, or the various Android app stores, or from http://www.thefind.com/apps.
About TheFind

TheFinds patented search, browse and discovery technology is expanding the eCommerce landscape through social, mobile and tablet commerce innovations. These include the Facebook timeline app Glimpse by TheFind, TheFind Mobile barcode scanning app for smartphones, the popular tablet app Catalogue by TheFind, along with the comprehensive shopping search engine, TheFind.com. Ranked number 12 on the 2010 Inc. 500 list of fastest growing private companies, TheFind was founded in 2005, venture funded by Bain Capital Ventures, Lightspeed Venture Partners and Redpoint Ventures and is a San Francisco and Silicon Valley-based company.
###