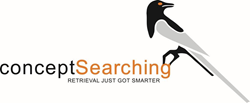 McLean, VA, US and Stevenage, UK (PRWEB) May 07, 2015
Concept Searching, the global leader in semantic metadata generation, auto-classification, and taxonomy management software, and developer of the Smart Content Framework, is compiling the statistics from its 2015 SharePoint and Office 365 Metadata survey, currently unpublished. Some of the organizational priorities identified in the survey, now in its third year, have remained almost stagnant and others appear to have been elevated to action items to be addressed now, or in the immediate future. In particular, information governance is the number two priority, following security.
According to the 2014 survey, the responses to the multiple questions that touched on this topic were somewhat confusing. For the most part, very few SharePoint organizations had implemented information governance, yet it did appear as a focus area to be addressed in the future. The conclusion drawn was that the term information governance was not clearly understood by the respondents.
This years survey saw a significant turnaround in the priority of information governance. Information governance is a complex set of processes that require participation of all staff levels, workflow and documented processes, and strategies for enforcement of policies, as well as the appropriate technology to deploy actions based on the decisions. Often overlooked is the information governance of unstructured and semi-structured data. Organizations have now taken the concept of information governance to heart. Concept Searchings 2015 survey shows this has become a high priority for 20% of respondents, with 25% actively improving information governance, and 26% planning to focus on it within the next twelve months.
With the continuing barrage of information, organizations are realizing that information governance as it applies to unstructured content is now a high priority, because it is closely tied to achieving business objectives, said Martin Garland, President of Concept Searching. Due to our industry unique semantic metadata generation, auto-classification, and taxonomy tools, our clients have been leading the way in information governance, long before it was an industry buzzword.
Concept Searchings award winning products are the only statistical metadata generation and classification technologies that use compound term processing to generate intelligent metadata from unstructured and semi-structured data. Compound term processing, or identifying concepts in context, solves a variety of business challenges.
The technologies deliver intelligent metadata enabled solutions that are being used to enable concept based searching, automatic declaration of documents of record, identification and protection of privacy and confidential data, intelligent migration, content management, eDiscovery, FOIA, litigation support, granular identification of content for text analytics, and improved delivery of social content.
Although platform independent, the Concept Searching Microsoft suite of products uses a single codebase, supporting all versions of SharePoint, SharePoint Online, and OneDrive for Business, providing clients with the choice of on-premises, cloud based, or hybrid environments to best meet their needs.
Follow Concept Searching: http://www.twitter.com/conceptsearch
About Concept Searching

Concept Searching is the industry leader specializing in semantic metadata generation, auto-classification, and taxonomy management. Platform agnostic, Concept Searching also has a Microsoft Gold Application Development competency, and offers a complete suite of SharePoint and Office 365 solutions. The award winning technologies integrated with Concept Searchings Smart Content Framework encompass the entire portfolio of unstructured information assets in on-premise, cloud, or hybrid environments. Clients have deployed the intelligent metadata enabled solutions to improve search, records management, identification and protection of privacy data, migration, text analytics, eDiscovery, and enterprise social networking applications.
Concept Searching is headquartered in the US with offices in the UK, Canada and South Africa. For more information about Concept Searchings solutions and technologies visit http://www.conceptsearching.com and our Blog, and follow us on Twitter and LinkedIn.
###

All product and company names herein may be trademarks of their respective owners.