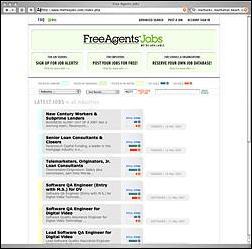 Los Angeles, CA (PRWEB) May 22, 2007 –
As with many new web applications, the Free Agents Jobs website, http://www.theFreeJobs.com, follows a trend of budget-limited entrepreneurs taking a chance on the web. The internet has brought about many exciting ways of getting one's feet wet in the business world without storefronts, secured loans and material overhead. Free Agents Jobs illustrates how inspired individuals are producing great web applications with limited resources and saved money, changing the face of internet business while challenging the major players in every online segment.
Just such a challenge was issued by William Belk, proprietor of Free Agents LLC, a California company. Investing in a formula that works for web companies like 37 Signals, Craigslist and Bloglines, Free Agents creates simple web applications that focus on a single task and do it well.
Free Agents Jobs is a direct response to the current industry standard. Disenchanted with a seemingly endless supply of job sites that focus on fitting the most information and entries on a single, monotonous page, Free Agents developed a powerful visual alternative. Their website, http://www.theFreeJobs.com, is a simple search platform that helps job seekers find jobs by way of a colored tab system. Just as important, each job entry includes icons that quickly transmit essential job information. With a single glance, viewers are shown each job's compensation, proximity, type of job (full-time, part-time, contract, freelance) and what kind of employer posted the job (company, individual or recruiter). Each job listing is also 'tagged' with its respective industry and date listed.
The Free Agents formula translates to a job search website that is visually intuitive and easy on the eyes. Viewers are no longer required to squint and reread job titles that all look the same. Powerful search and filter features, informative icons and their colored tab system set Free Agents Jobs apart from all other job search sites.
Unaffected by the demands and unrealistic expectations of investors and venture capital groups, Free Agents has been able to focus on their products instead of their hype machine, corporate structure, or administrative backlog. Functioning as a self-proclaimed 'little guy' has its perks. Not every online property launches with $ 2 million in reserve. The little guys are here too, and they're doing some great things.
About Free Agents Jobs:

Free Agents Jobs is a division of the California company Free Agents, LLC. Free Agents builds simple, intuitive web applications with custom web programming by Volta Media.
Contact:
Free Agents Jobs

310-844-7779

mk1 @ thefreejobs.com

http://www.theFreeJobs.com/
###