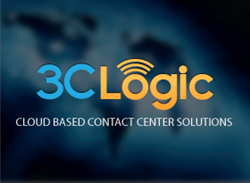 Rockville, MD (PRWEB) April 14, 2015
3CLogic, delivering next generation inbound, outbound, and blended cloud contact center solutions, today announced its COO, Raj Sharma, will be among a select group of industry experts scheduled to discuss WebRTCs potential impact on the call industry at this years WebRTC Conference and Expo in Miami, Florida.
WebRTC is bringing significant change to the communications landscape that will bridge the worlds of web and telephony making the Internet the new standard for communications, explains Raj. This poses an opportunity for call centers to empower consumers, who are increasingly turning to the web for everything, to communicate via their browser of choice using their preferred communication platform (tablet, laptop, or mobile phone).
The session will examine how WebRTC could change the relationship between business and consumer while addressing the various ways call centers are beginning to adopt the technology. In addition, Sharma will focus on the range of possibilities for WebRTC within the contact center space and its potential effect on the consumer experience.
3CLogic announced in early February the adoption of WebRTC for its own Cloud Contact Center solution as the latest enhancement to its product offering. Additional details can be found here.
The panel discussion will be hosted on Tuesday, May 5th at 11:40pm EST at the JW Marriott Marquis in Miami, Florida. Additional details and conference registration are available at http://www.webrtcworld.com.
About 3CLogic

3CLogic offers a complete suite of inbound, outbound, and blended cloud-based contact center solutions based on an innovative distributed approach (Virtual Telephony Application Grid or V-TAG) that eliminates the need for legacy server-centric architecture. Providing companies with a 360-degree view of all their customer interactions, regardless of the channel chosen, 3CLogics solutions allow for a timely and accurate means by which to offer first call resolutions. As a true cloud software solution, hosted on AWS, it offers seamless integration with other cloud-based solutions, including CRM and WFM, while providing market-leading security, scalability, and reliability. Finally, in addition to traditional contact center features (i.e. multichannel communication, IVR, ACD, predictive dialer, etc.) 3CLogic provides a powerful reporting framework with business analytics and real-time scripting engine. For more information, please visit http://www.3clogic.com or blog.3clogic.com.