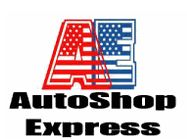 Green, OH (PRWEB) June 30, 2012
Auto repair shop owners and managers need to take notice of recent forecasts from the U.S. Travel Association and other travel-related groups: People plan to travel more this summer, and they plan to travel by car.
And that means theyre likely planning a trip to the garage first to make sure their cars are tuned up and roadworthy. Repair professionals need to prepare for the onslaught by making sure theyre organized and stocked up on critical repair shop supplies, said Paul Brown, president of AutoShop Express.
Repair shop supplies should include items like:
Service dispatch control tags Printed on heavy card stock and featuring differently colored numbers on each side. Each control tag includes two detachable tags on the bottom one for the vehicles key and one for the work order holder.
Work order holders Lots of space, open top, sturdy strap, durable plastic all attributes of the perfect holder that keeps papers, keys and important information all in one easy-to-see location.
Customized oil change stickers What better way to remind customers who made sure their cars were safe and ready to go on vacation? With room for your logo and contact info and spaces to write when the next oil change is due, these are a must-have for any busy car repair shop.
Ordering these now, along with other repair shop supplies like paper floor mats and Versa-Tag key tags, will help shops stay one step ahead of the game, Brown said.
AutoShop Express is a long-time leader in the distribution of repair shop supplies, including sales aids and interior protection products.
Visit http://www.autoshopexpress.com to learn more about the company and its extensive selection of repair shop supplies.